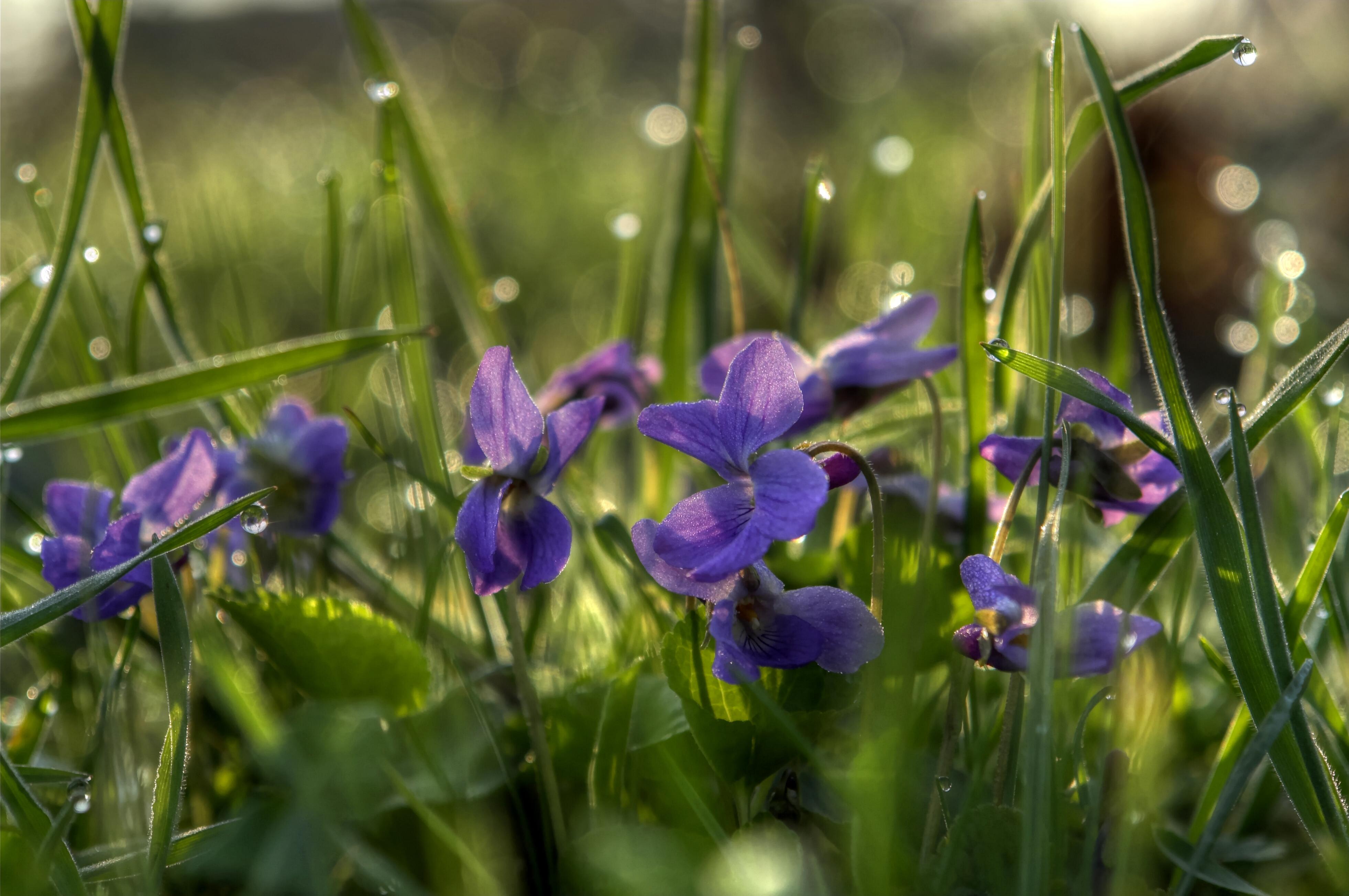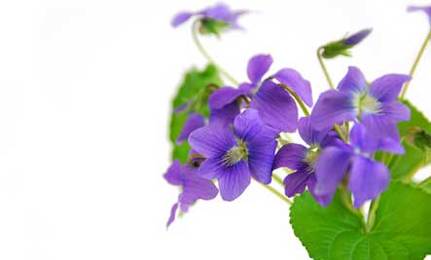 Plant Profile: Violet
from Herbalist Erin Smith
It is hard to not smile in the presence of violet. The beautiful and delicate flowers are a favorite early spring treat and begin to pop up in March.  Long associated with Aphrodite, they are a symbol of love and fertility and have a light, youthful, and joyous energy. The flowers have a delicate and sweet fragrance and have historically been in high demand for perfume.  During the Victorian era, France alone reputedly harvested six tons of flowers a year.
Along with its delicate scent, violet has wonderful health benefits.  There are over 100 species of violet and many that are native to North America. While all of them have uses, it is the Sweet Violet (Viola odorata) that is most commonly used and has a rich history in western herbalism. The leaves and flowers have traditionally been used for respiratory ailments with congestion and coughing, such as bronchitis. A syrup of the flowers is excellent for soothing children's coughs. Violet contains salicylic acid, which is similar to the pain-relieving component in aspirin, and both the leaves and flower are used to ease headaches. It can help support restful sleep and is a nice addition to a gentle sleep blend.  Violet is moist and cooling and the leaves ease inflammation, and when used externally, soothe skin irritations and swelling. It has an affinity for the lymphatic system and can promote healthy lymphatic function. Modern research is investigating its antimicrobial properties (Zarrabi et al., 2013). An infused oil of the leaf and the essential oil can be massaged into breasts to maintain breast health and as adjunct support for breast cancer and cysts.
Violet is rich in Vitamin A and C and can be added to a nutritive tea, along with other nutrient dense herbs such as Nettles and Alfalfa. Its demulcent properties are soothing to the digestive tract.
The leaves and flowers are edible. The young leaves can be added to salads and the flowers, slightly sweet, have traditionally be candied and used decoratively.  However, their delicate flavor makes a wonderful addition to many dishes.  Use them in sauces, ice cream, syrups, and more.
The purple flowers appear in early spring, long before the bees are out. As such, it produces another nondescript self-pollinated flower later in the summer. Therefore, the beautiful little flowers are a spring gift that you can enjoy freely.
Violet Butter Recipe
1 large handful of fresh violet flowers
1 stick of organic butter
raw honey or maple syrup
lemon zest (optional)
Let the butter stand at room temperature until soft. In a bowl or electric mixer, add butter and violet flowers. Slowly add honey until taste. Gently stir until well blended.   Add a dash of lemon zest.  Refrigerate until ready to use. Best if made a day in advance to allow the violet to infuse the butter.
For a little taste of heaven, serve on fresh warm Lemon Scones.
Note:  Go easy on the honey and add a little bit at a time. Too much sweet can take away from the delicate flavor of the violets. We often leave out the lemon zest for this reason as well.  Especially, if serving with Lemon Scones.
References
Zarrabi M, Dalirfardouei R, Sepehrizade Z, Kermanshahi RK (2013) Comparison of the antimicrobial effects of semipurified cyclotides from Iranian Viola odorata against some plant and human pathogenic bacteria, Journal of Applied Microbiology, 115(2), 367-75.

A version of this article first appeared on integrativebotanical.com and is used with permission.