Your Health, Your Life… Integrated.
Your Health, Your Life… Integrated.
The status quo isn't working for most patients. We're different.
Integrative Family Medicine of Asheville is a membership-based, direct primary care (DPC) practice. We don't bill insurance. Our patients pay a monthly fee and in return they get more attention, longer visits, and a medical provider who is their health ally.
Step 1: Become a Member
Schedule an Establish Care appointment ($80 enrollment fee + $69/month membership)
Membership allows us to focus on you instead of insurance
Step 2: Be Heard
Share your concerns with the doctor
Establish an action plan for your health and well-being

Enjoy 2-3x longer visits than average
Step 3: Get Healthy
Visit for your annual physicals, urgent care, and follow-ups
Consult with the staff nutritionist and health coach
And more!
Direct Primary Care
Direct primary care is a health care model that restores the personal relationship with your physician.
Price Transparency
$69/month membership plus a $20 co-pay with each visit
Significantly discounted lab costs
We do not take insurance, Medicaid, or Medicare.
All IFMA patients are encouraged to have catastrophic coverage or a high deductible insurance plan.
Personalized Lifestyle Medicine
Feel empowered about your health and invest in your well-being.
We support a whole spectrum of health, including diet, exercise, sleep, stress management, relationships, and living a meaningful life.
"When you unleash the chains of catering to third-party administrators, every second freed up is more time you can spend with the patient. In the end, it's just a really heartfelt feeling when we can walk into the room and know that our energy, time and resources can be 100 percent dedicated to the patient."
Dr. Chad Krisel
PRIMARY CARE
Annual Physical
Follow-Up Visits
Urgent Care Visits
Focused Visits
LIFESTYLE MEDICINE
Our practitioners take the time to learn about your life and the way you live it.
By focusing on nutrition, fitness, healthy relationships, and personal growth, we guide our patients in making healthy lifestyle choices that encourage optimal health and well-being.
MEMBER BENEFITS
Personal lifestyle plan

Health and nutrition coaching

Free classes and workshops on health, fitness, and nutrition

Phone, email, and Skype appointments

Discounts on X-rays, labs, ultrasounds, biopsies, and more

Family discounts

Online patient portal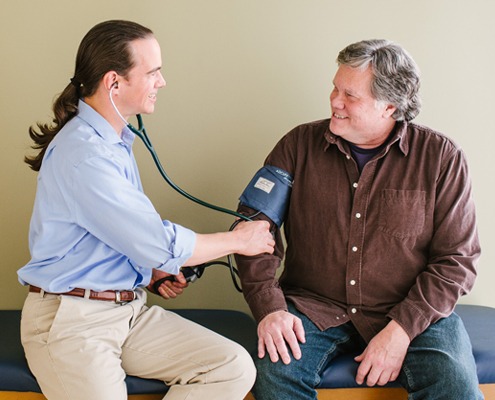 IFMA offers events, workshops and resources to support the health of our community. Join our email list to stay informed!
A Natural Choice for Your Family's Primary Care
We care about you, your family, and our community here in Asheville. We provide the same quality, holistic care for all ages—from children to seniors. Children under 18 are eligible for the discounted rate of $35/month after there are 2 full-paying members in a family.
Get More for Your Investment
Interested in care that doesn't cost a fortune? There are affordable options for supplementing your Integrative Life membership.