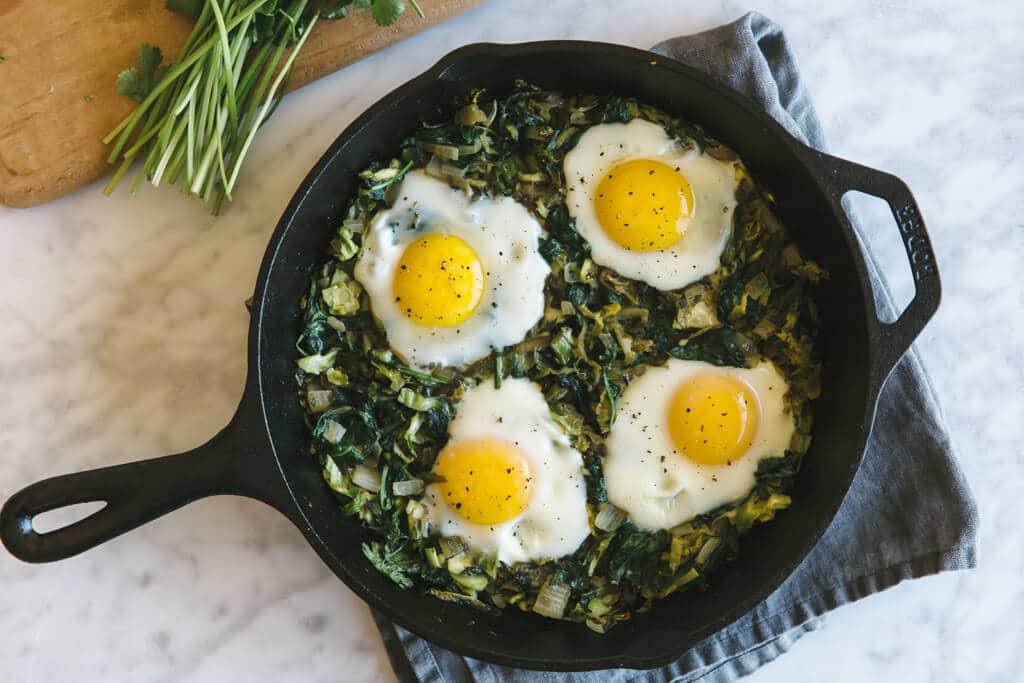 PREP TIME: 10 minutes
TOTAL TIME: 40 minutes
Serves: 4
A spin on traditional shakshuka, this healthy green shakshuka is made with shaved brussels sprouts, spinach and zucchini.
INGREDIENTS
2 tbsp olive oil (I always use this brand)
½ medium onion, diced
4 cloves of garlic, finely chopped
2 cups, brussels sprouts, shaved or finely sliced
1 zucchini, grated
1 tsp cumin
½ tsp salt
¼ tsp pepper
¼ cup fresh cilantro, chopped
2 cups (packed) baby spinach
4 large eggs
1 large avocado, for garnish
DIRECTIONS
Preheat oven to 375 degrees.
Heat olive oil in a medium saute pan on medium heat. Add the onion and cook for 5 minutes, or until the onion becomes translucent. Add the garlic and cook an additional minute.
Add the shaved brussels sprouts and cook for 5-6 minutes, stirring frequently. When the brussels sprouts have softened, add the zucchini and spices and stir for another minute.
When the vegetables have all cooked, add the spinach and stir until it wilts.
Flaten the mixture and crack the eggs evenly spaced on top.
Transfer the saute pan to the oven and cook for 5-8 minutes, or until the eggs are done to your liking.
Garnish with ¼ sliced avocado per serving.