When:
April 4, 2019 @ 6:30 pm – 7:30 pm
2019-04-04T18:30:00-04:00
2019-04-04T19:30:00-04:00
Where:
Glen Rock Community Space
372 Depot Street
Contact:
Integrative Family Medicine of Asheville
828-575-9600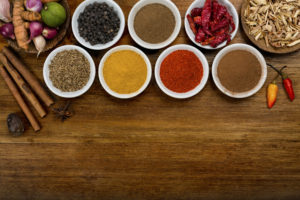 Your best medicine may be hiding in your spice cupboard! Join Greta Kent-Stoll, Ayurvedic Practitioner, for this peek inside the profound health benefits of common kitchen spices. You will  learn not only about the medicinal properties of various common cooking spices but also about their Ayurvedic properties and energetic qualities. Greta will share some simple Ayurvedic recipes that use spices plus tips for maximizing their amazing healing benefits!  
Greta Kent-Stoll's mission as an Ayurvedic practitioner is to inspire, educate and heal through the wisdom of Ayurveda. Her practice, Asheville Ayurveda, is located alongside Iyengar Yoga Asheville in the Grovewood Village next to the Grove Park Inn. Greta has published in the Ayurvedic Journal of Health, writes monthly for the Herbal Academy, and has served as an intern supervisor with the CA College of Ayurveda. For more on Greta's Ayurveda practice, please visit http://www.ashevilleayurveda.net/.
If you are interested in attending the class, please RSVP to [email protected]gmail.com by April 4th at 12:00pm. The class is free for Integrative Life Members. There is a suggested donation of $5 for non-members. Donations will go to our monthly non-profit beneficiary.
*Please note that the event will be held in the Glen Rock Community Room at 372 Depot Street, Asheville, NC 28801. This is at the top floor of the building where our clinic is located. It's easiest to enter from Ralph St., directly behind the clinic, around the corner from PennyCup Coffee. Walk down the sidewalk and look for the ramp entrance, then take the elevator to the top floor.